Buying bread at the bookstore, yeah
And thanks. I haven't figured out how i want to show the health yet during fights. I'm running out of space on screen! Maybe i'll let you push the stats button (mode) and a little bubble will pop up next to your players showing their health (and status)? I had the enemy health shown in a little box at the top but i think it looks a little crowded, and anyway, that was mostly to make sure that the damage was being taken correctly, i don't think i'll show the enemy hp later on. Yesterday i finished up the basic items interface, which now correctly reads the items and shows how many there are in your pack: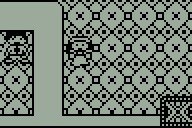 Things are starting to come together
EDIT: Oops, i forgot the tags around the image.