Robot War - 83+
Posted:
08 November 2014, 12:34
I guess it's been two years now. I spent about a week or so back in 2012 porting Robot War to the TI-83+ series. Today i dusted the folder off and decided to finish it off. Most of the work had already been done, i just cleaned up a few bugs that were left over, made a couple small optimizations and changes here and there, and fixed a spelling error (changing "stoping" to "stopping"). Most of my time today was spent playing through the game on my SE to see if everything worked, and i finally beat the game this afternoon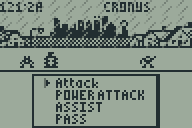 Here's the 8xp and the source:
-
ROBOTWAR.8xp
-
Source+8xp
.
Btw, to get around the C000 limit i used Crabcake, but unfortunately it doesn't seem to work with the 83+. If you've got any ideas on how to get around the C000 limit on the 83+ let me know and i'll release an 83+-compatible version. Ah, and due to the size of the program (24000 bytes exactly, not including VAT entry) you'll have to delete basically everything with a VAT entry to fit it on there, at least if you want to have a save file. I guess i could read the save file from archive, but that would add more code to the main program, too.